There is a fairly new line of optics out.  If by fairly new you mean 80 years in the industry and people have still never heard of them.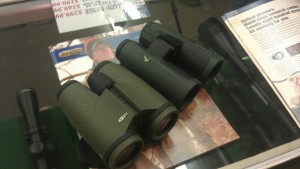 This is a set of Meopta 10×42 HD Binos sitting next to a set of Swarovski  SLC 10×42's.  The Meoptas are retailing for $999.99 and the Swarovski's for 1500 bucks MORE money.  Looking through both sets, I really can't see any difference.  Maybe the SLC's are just oh so very slightly better.  But really I can't see any difference at all.  Certainly not any difference I'd pay 1500 bucks more.  The Meoptas are a No Brainer Buy.  The best comparo would be to the Zeiss Conquest 10×42 which also retails for 999.99.  The Meopta is pretty much a dead ringer but I like the Meopta better in that it required less movement of the focus knob to get something far away and something farther beyond that to get into focus.  Almost no movement at all to get from Far to Further, if you know what I mean.   Considering that Meopta makes the Zeiss Conquest rifle scopes – I found this to be no surprise.  I don't know if they are making the Binos for Zeiss or not, but they do build the scopes.  So if you've never heard of Meopta, you've probably looked through some before if not own some.  Meopta also makes a lot of other optical products for other countries.  Even other industries.  The Periscopes for Subs, Prisms for other optics companies the periscope prisms for the M1A Battle Tank, the windows in the Space Shuttle that have to take High Temp and sudden deep cooling… So they are a very technically advanced optics company.  They make everything in house, unlike some optics companies which sub-contract and dont actually manufacture anything.  (Vortex)
Looking through a Meopta Rifle Scope is like looking through any comparable Zeiss Conquest, but generally for about 200 bucks less.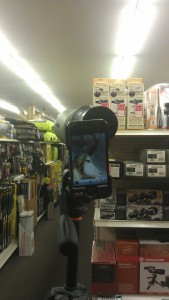 I also like the fact that they throw in an iPhone Adapter for Digiscoping… taking pictures through your spotting scope.  It's easy and it works.  Put the phone in the adapter, then putt out the scope's Eye Cup and put the Adapter/Phone to the Spotting Scope.  Crystal Clear.
Remember how I have said that if I am going to spend my own money on Optics its going to be on Nikon or Zeiss… Throw a 3rd option in there for me.  I'm really digging the Meopta HD Binos and their rifle scopes.