For some reason, this segment of the shooting community has exploded. Because evidently classic .22 shooting just isn't cool enough anymore. You have guns like the Ruger 10/22, the Marlin Model 60, the Marlin 39A Lever Action, or something simple like one of the excellent CZ bolt actions…. but no… they are not "TACTICAL". Let me tell you, the Lever Action was Tactical before the word was invented. Because if "Black with Rails" means Tactical then I guess it's not. If Tactical means it can be applied with tactics, or if it's user friendly and provides actual utility in different situations, then absolutely. Well, some folks think it's all about the AmTracks… so we have to roll with as many rails as possible to be even more tactical. I mean, hell, we have Rails for our Rails because no one is making a gun with enough rails so we have to add more. Anyways, the rifles. Let's take a quick look.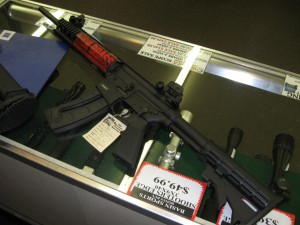 This is without a doubt, the best of the type here. It runs just like an AR, with a functional bolt release. If you want a cheap training analog for your M4 type rifle, this is it.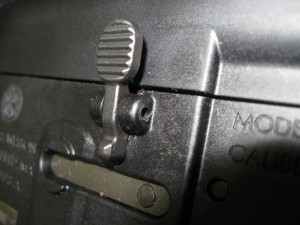 You can modify it to match you regular rifle, yet shoot cheap .22LR loads and within 1 season the S&W has paid for its self. Money Saved is Money Earned, so it wont be long before your making money with this. Okay, that's a stretch of logic, but the gun is especially sweet and they've proven to be great shooters. If there is any drawback to the S&W, is that it's lighter than a regular AR due to the polymer construction.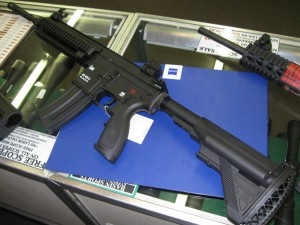 The HK 416-22 is a great rifle that looks right, feels right, and I want to like it. The heft and balance is exactly like a regular AR type rifle. This also means its the heaviest of these rifles, and probably one of the better ones, but I have to take a pass on it. Why?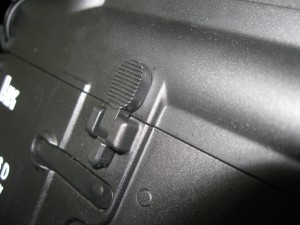 The problem that has, is that you can not practice your weapon manipulation because this gun works different than your regular gun. Between these two, I'm buying (for less money) the S&W M&P15-22 because while it's lighter, it runs the same. Even uses some of the same parts in the trigger mechanism. The HK, like most other HK's, has a really poor trigger. This is going to hamstring any hope for accuracy.
The SIG 522 is a look a like for the SIG 566 rifle. It does everything well, and has perhaps the best constructed magazine out of all of them. They are accurate, and as reliable as a .22 rifle can be. The only problem is that it sells poorly compared to the others… because it doesn't have enough rails. I don't understand this… but people will happily pay more money rails they never use, then even more money for covers for the rails so they can hold on to it. Look, I'm not against rails. They offer some utility. But I'd rather have rails where I need them and not just all over everything.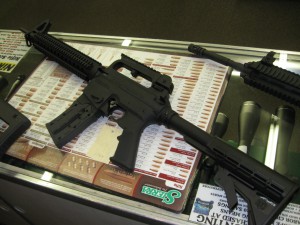 So Mossberg wants to play the Tactical .22 game so they break out a rifle that from a distance – a far distance, it looks like an AR15 from the 80's that someone put railed handguards on and a scope rail on the fixed carry handle. I actually had an AR like this. I remember back in 91 I sold it… primarily because the 80's were over. Now, Mossberg took that idea, and made it cheaper than Cindy Lauper's Newspaper Dress.  So this thing up close doesnt really look like an AR and it doesn't work like an AR.  Safety where the mag release is, nothing where the safety should be and the mag release where it shouldn't be.  And then when you get the magazine out… you wish you hadn't.
What the Mossberg unit is, is a Plinkster rifle, which is a decent enough gun on its own, wrapped up in a lot of plastic.  Kind of reminds me of something.   I think Mossberg has invented a whole new term to define a phenomenon… the Tactical Ricer.  And here we thought that this was the domain of Ruger 10-22 kits and an Air Soft catalog.  This is the cheapest of the .22's here, and quite rightly the worst of the lot.  I'm left wondering who is going to buy this one?  No one for themselves.  I think this is the perfect gift for those guys that have an annoying nephew that they don't really like but have to buy them a birthday present for anyway.