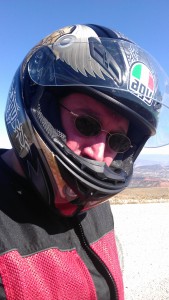 I've gone through a few helmets in the last couple years.  Some of the changes were necessary due to impacts, others because of fit issues.  I have a very "Oval" shaped head.  It's more Lycan than Human.  So most helmets just don't fit right.
HJC:   These lids are starters, nothing I'd go back to.  It fit fine at first, then after it started breaking in it got loose.  It was loud, poorly vented, and heavy.   But it was cheap.
Scorpion:  Very Good fit and finish.  I like it.  Mine was the EXO-400, one of Scorps lower cost lids, but it was great helmet all the way around and I'd not hesitate to get another one.  But the 400 was shaped more oval and the higher end Scorps are more round, so they wouldn't quite fit me.  Which is too bad, because I really like them.
Bell:  Great venting.  Light.  Killer looks.  I really liked this helmet save for two things.  Loud as hell and it was crushing my awesome roman nose.  Mine was the Vortex Siege helmet.  If you are in a hot location, and have a normal shaped head, this is an awesome lid.  Just wear your Ear Buds, Ear Plugs, or if you are completely deaf you'll be fine.  See, the lid as some exhaust vents  right behind your ears.  So what happens is as you get moving, drag behind the helmet creates a vacuum and it pulls air through the intakes and out the exhaust ports, creating the sound of a hurricane inside your head.  But it moved a lot of air and kept me cool through the hottest part of a High Utah Summer.  The constant nose smashing however drove me nuts and I had to get something different.
AGV:  Valentino Rossi can't be wrong.  The Gear Geeks at Revzilla turned me on to AGV for the head shape, so I checked out the K4 selection.  This is an upgrade over the classic K3 lid, so it's more aerodynamic in shape, quieter, lighter, better fit… This bucket has everything I wanted.  The graphics I picked are the "Explorer" pattern with an old school compass… which spoke to me.  It reminds me of why I ride.  It's not for the sheer speed (That I do enjoy) but for the freedom to get out and Experience The Ride.  Adventure Riders have a slogan, "Ride The World".  And that's what I want to do.  Get out there and see it… be there… take it in.  It's a beautiful thing.
My next helmet?  Well, my next lid is going to be a Dual Sport type helmet, sporting that long sun visor, which I have found would be a good thing.  Smoked shield.  Longer shape.  I'm thinking the Icon Variant helmet.  Icon is known for crazy graphics, but the one I like is called "Battlescar" which is basically no finish, just the fiber from construction, some sealant, and a clear rubberized coating over that.  It looks badass.  It's not just about the looks though, it's one of the few Dual Sport helmets that has a visor that doesn't create lift when you are at speed (80 MPH for example) so I can ride it on my Sport Tourer or my Enduro.