So while I was sitting in a Harley shop, waiting for my KTM to get finished… which wasn't finished according to the 1.5 Hour Estimate for a blown gasket.  I was looking at the shiny new HD bikes.  I really don't get the Harley thing…. As a motorcycle company, the brand is shallow as hell.  The more interesting of the bikes are the ones that HD Enthusiasts scoff and refer to the as girl's bikes. The Sportsters and the Iron 883.  In black it is a bitchen looking machine.  The other bikes look overweight and lethargic.  They also look like the same bikes they have been making for 110 Years.  Take a look at the the XR1200X, perhaps the most interesting HD of the bunch, but now Discontinued.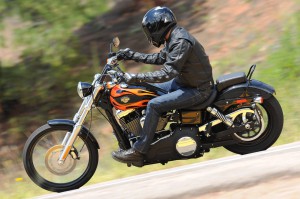 What's left are the Cruisers, Touring Barges… The same old bikes Harley has been making forever.  Big on sound, Low on performance unless you spend a lot more money on them.  It's a wonder people have not grown tired of these bikes.  I got tired of them, just looking at them.
Then there is the V-Rod.   A bike that finally breaks some new ground.  But it remains a Harley side line… A step child.  And a nitch machine at that.  A Power Cruiser… Very low slung and fast looking.  Impressive stats.  But its a singular thing.  The Corvette to Chevy.  But Chevy takes the Vette engine and puts it in other cars… Uses the Vette to really spice up the the whole brand.  HD doesn't do that.
Look at the other MC Brands.  They all have bikes in other classes, so Riders of all kinds can find something they want to throw their leg over.  The problem I suspect is that Harley is not so worried about being a motorcycle company and are too concerned about being a Brand and an Image.
If I was Mr. Harley, I'd take that V Rod engine and shoehorn it into a few other bikes.  I'd also try again on the sport market.  Because there is room for it.  Don't know what that would look like? Imagine an HD 200 years from now.  Okay, no… because HD would still look the same.  Imagine what Larry Niven would imagine an HD 200 years from now would look like, and start there.  I want to see a wicked superbike with fairings and the whole enchilada.  Competitive in the Isle of Mann TT.  Ducati makes awesome v twin sport bikes.  Honda made a fantastic V-Twin Sport Bike – I had one.  Both these companies also make bikes that can do both Dirt and Street.  Where is an HD Adventure Bike?  Single Piston Thumper?  Where is an HD Factory Cafe Racer?
EXPAND THE BRAND, HARLEY!   You check out the full HD Catalogue, and they actually have very few motorcycles.  Just the same bikes that sport different Cosmetics and Front Tire Sizes.
Yet people will pay big dollars for those Hogs.  BIG dollars. Don't get me wrong – I admire that.  I seriously do.  Because Harley has a Brand built on a very cool Tradition.  They have Legacy.  But Motorcyclists fall into Two Categories   Those that Like Harley, and those that Don't.  Namely because HD isn't doing anything to reach across the lane divider to bring in new riders.  I think that's a serious flaw in HD's future.
Here's what's pissing me off.  I'll probably end up buying a Harley some day.  Because sitting on a couple of them… Damn.  It fit.  Didn't hurt my knees.  Felt good.   Damnit if Harley isn't the 1911 of the Bike World.  Classic lines and great comfort with a Big Bore.   Shit.