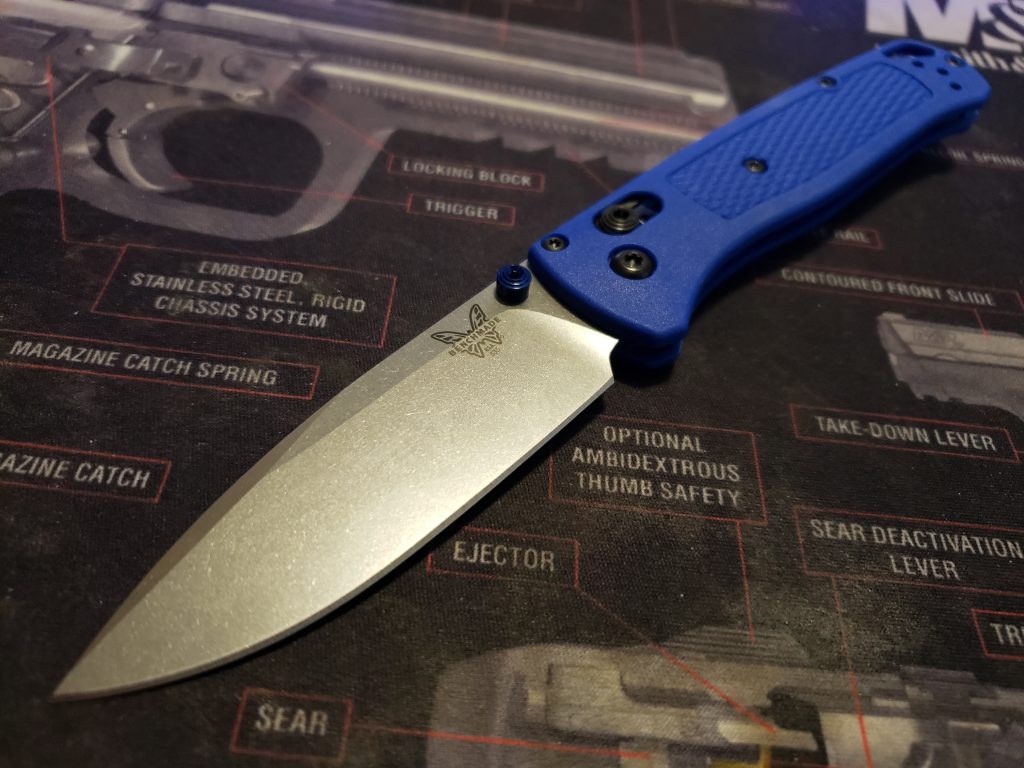 The Bugout is named inaccurately. Bugging out to me, means it's a SHTF scenario. Where you are going to deal with everything from Aliens to Zombies to Survival. That kind of knife is probably better off being a Fixed Blade, and maybe a large one at that. That's really not what this knife is all about. What this knife really is, is a more butch Gentleman's knife.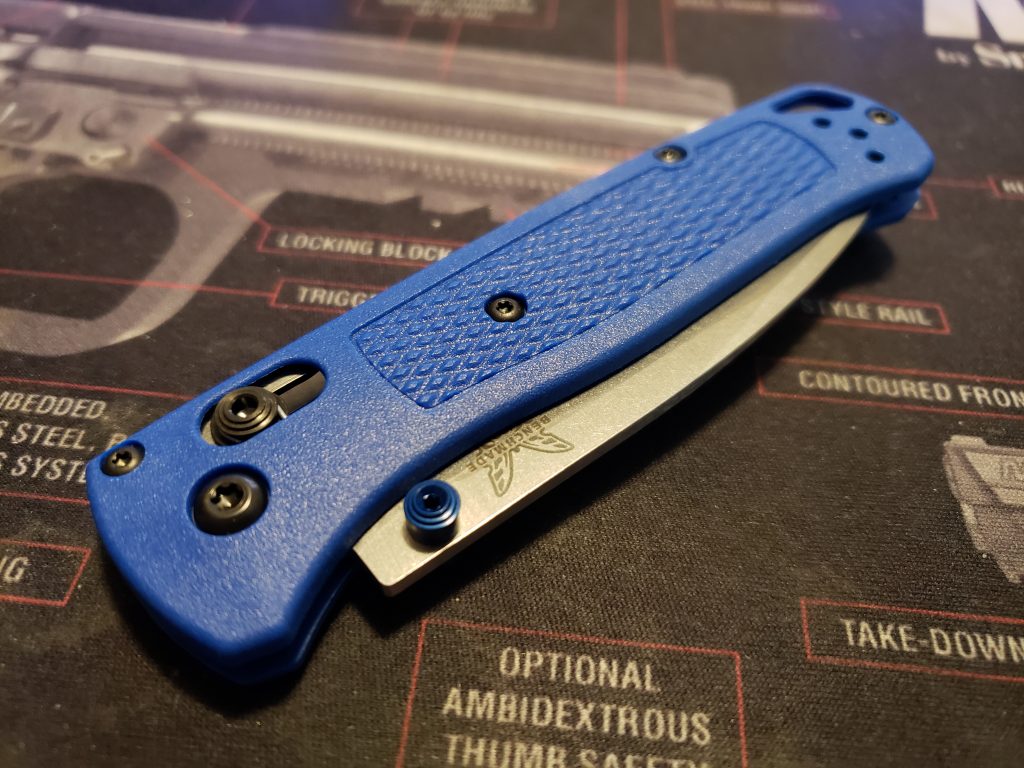 The Bugout sports a thin flat grind blade that's very sharp and awesome for slicing. The handle profile is also very thin. The clip allows for a very deep carry. And the overall weight is under 2 ounces, making it just crazy light. Saying that "It's like it's not even there" is an understatement. And like a Gentleman's knife, the Bugout is on the smallish side.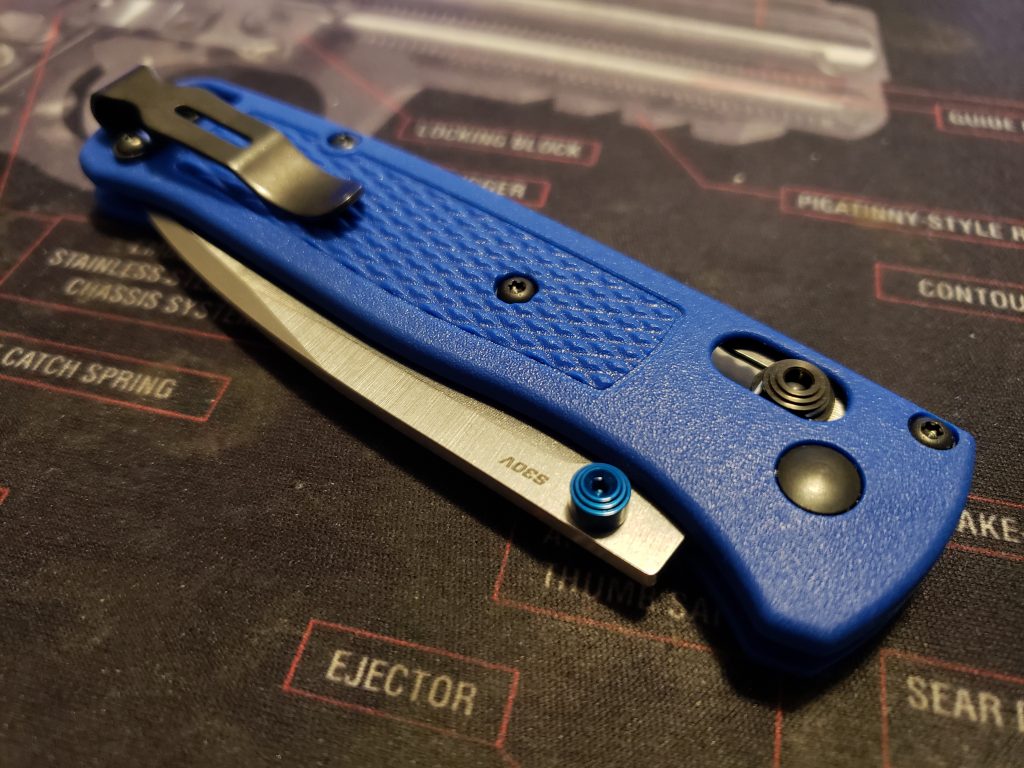 The liners are very short, to reduce weight. And the knife is mostly open. But the Axis lock is smooth, and just what you would expect of a Benchmade. I do like the design and the execution. And I do feel that you are getting what you pay for with the Bugout… if you went into it with proper expectations. Because the knife was designed from the start to be crazy light, it gives up some things that a true SHTF Bug Out Knife should have. The blade isn't heavy enough to flick out with a snap of the wrist. But it does open smoothly with the thumb stud, and you can flick it out with the studs with a little practice. You are getting a coated titanium Axis lock, which means it's very light, and it's going to last for a very long time. As will the reinforced nylon scales… Though they can flex if you squeeze it, it's not going to hurt them. And you can get kits to swap those with G-10 or Micarta, if you want to add some thickness and weight. Which defeats the purpose of the Bugout's super light nature. It's fine as it is. Right now, you can get the plan satin blade with blue handles, or a tan handle with a black coated blade. But I tend to not light coated blades… so… Blue. Which looks nice enough.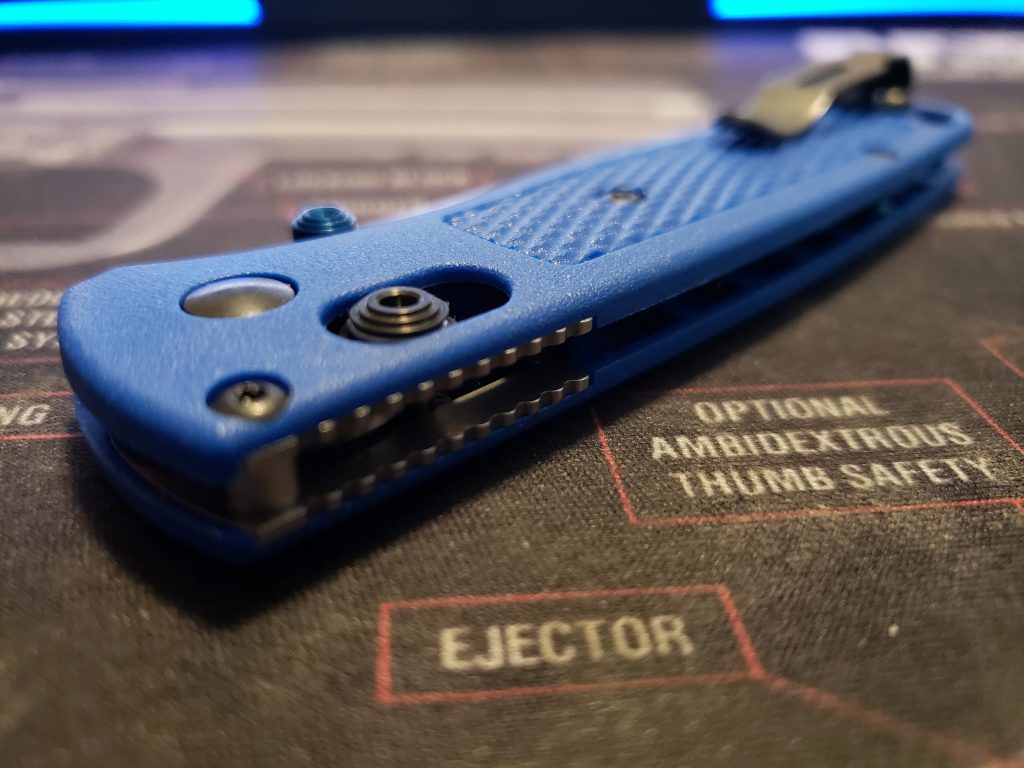 I find it odd that this was marketed at guys that are doing backpacking and are counting every ounce. No. That's really not this knife. This is better suited to the guy that wears a suit every day and suit pants pockets don't hang heavy folders very well. But I guess the name "Professional" or "Middle Management" or "Sales Team" just doesn't inspire, and probably doesn't show the handle materials that those names might conjure… Like Rich Mahogany or Corinthian Leather. But the S30V Blade Steel sure does. That's a solid choice, without getting silly in expense. As is the Bugout knife as a whole. A solid choice for the guy that wants a really good every day carry knife that is light and deep, yet capable of good cutting when needed.
The Bugout is worthy of the Butterfly… Benchmade really does make some great knives, and this is one of them.

UPDATE: Some time later after packing the Bugout for some time… It's become my favorite EDC Folding Knife. The fact it does very well at not being there when not needed, and being handy and sharp as hell when needed… It's damn near the Perfect EDC knife. I love this thing.