Beretta, who loves  ya, Baby….


You know I do… Your curves, your lines, you're a full figured Italian Goddess…. You're Beautiful…
Can you do something special for me?  I'm wanting something a little different… some custom work.   Let me explain – please listen to me…
I want this gun, right here.   A 92FS Compact:


But with a Black finished Slide.  Two toned finish.  That's the easy part.  Here's where it gets tricky.
The most accurate semi auto pistol I've ever fired was the CZ 97B, which has a threaded barrel bushing to center the barrel in the slide perfectly.  That gun was telepathic.  The 92 is very accurate, but there is more accuracy in there that can still be found.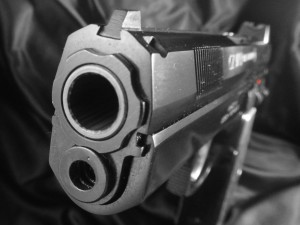 The 92 series has a bit of play there in the barrel, that a screw in bushing would remedy.   Not like how the AMU did it, with threading the barrel and putting a shaped nut on the barrel.  I want the slide threaded and a bushing that threads into the slide like the CZ97B.  I want this on my Beretta 92 Compact.  Okay, now just for pure looks… I want a recessed target crown like on a Nighthawk Custom T3.  Like this: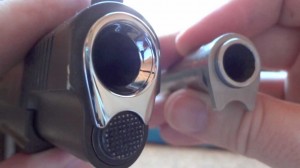 I want that on my Beretta 92 FS Compact INOX with a black slide.
Can you make this for me?
I'll give you all my best lollipops…