Fenix has sent yet another light for my examination. And this one is a little different. The PD35 V3 has two buttons… One on the side near the bright end, which functions to select your output mode. The other is the tail-cap switch which activates the light. This is different from the other lights I've tested from Fenix and took a few moments to get used to. Since then I've been carrying and using it so I can formulate my considered opinions on it.
Like the other lights, this one is built just as solid, with the same high-quality construction and assembly that I've come to expect from Fenix. I wasn't disappointed at all. And this one is a good chunk less money than some of the others I've reviewed.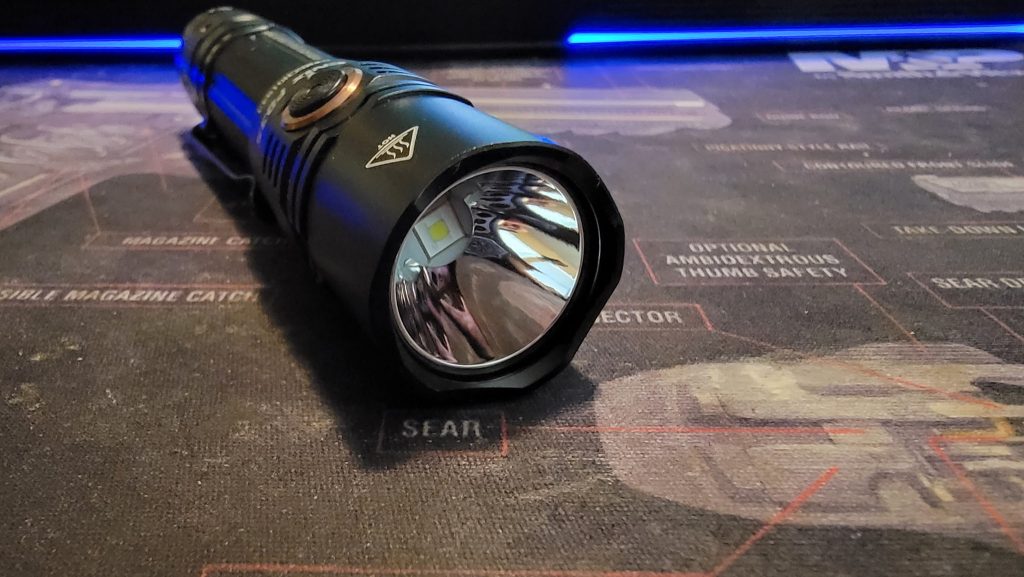 The PD35 V3.0 has a Turbo Mode output of 1700 Lumens, which is a little less than some of the others I've tested. But in actual practical use… It's more than enough output. I'm not signalling edgy solitary masked crime-fighters over here. I'm using them for more mundane tasks. Like finding that little spring that shot out of the firearm I was working on and bounced off the wall and back under my desk. I felt it hit my leg so it should be around here… somewhere. So here's what you do. Take the Light, and on Medium Mode, which is 150 lumens… hold the light down low parallel to the floor and use the beam to scan around… There it is! Perfect. Oh, and here's that Micro SD Card I was missing. How did that get down here?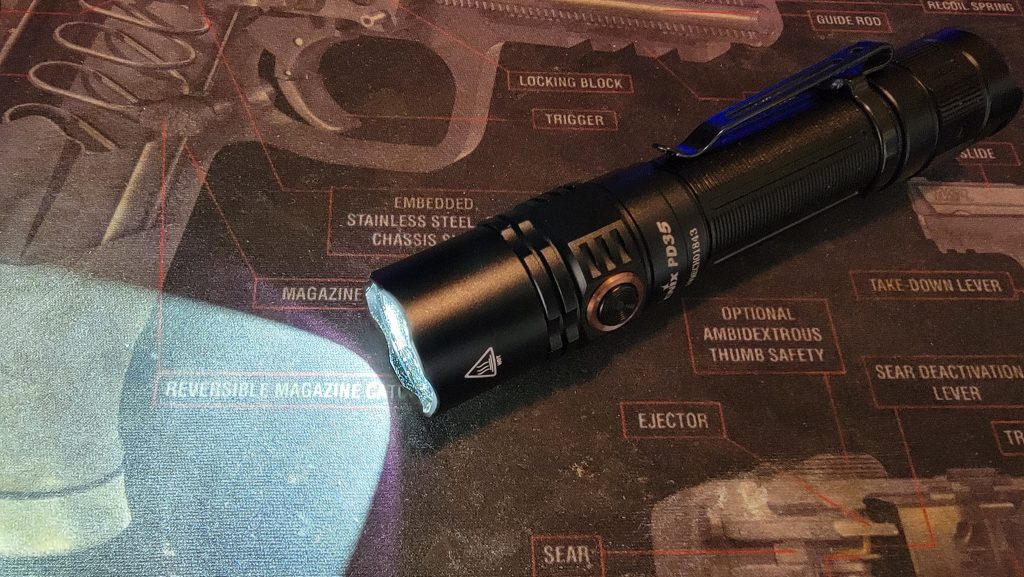 Turbo Mode: 1700 Lumens with a run time of 1 hour and 25 minutes.
High Mode: 600 Lumens with a run time of 2 hours and 35 minutes.
Medium Mode: 150 Lumens with a run time of 8 hours and 30 minutes.
Low Mode: 50 Lumens with a run time of 26 hours and 25 minutes.
Eco Mode: 5 Lumens with a run time of a staggering 230 hours.
There is also the Strobe Mode at 1700 Lumens, for those that like to throw flashlight raves.
I find the steps between the light modes to be pretty good. As you jump between them, the difference is enough that you wont be doubting which is which here. In pitch black spaces, Eco Mode puts out enough light so you can see close by objects and is far more handy than one might think. The Medium's 150 Lumens is actually brighter than my weapon-mounted light, which claims to be brighter. But it's not.
The tail cap switch feels good too. Nice and tactile. It can be partially depressed for instant on and off work… Good for Room Clearing and such. And then all the way down you press till you feel the click and now you are in a Constant On until you click it again. The forward button will then cycle through the different light modes. If you press and hold the forward button, you get the disco mode. Which I find to be a completely useless feature but some Tactical Instructors claim it to be absolutely fabulous as a dazzler distraction device for use against bad guys. Frankly, I find it to be problematic as it dazzles both the operator and the target.
The clip is the same as on the other lights in this category. This means it's good and functional and you never have to futz around with it or worry about it. And that's about as high of praise as I can give a pocket clip.
If there is anything else to praise about the light – It's the rechargeable batteries that Fenix is using. I didn't use to be all that keen on Rechargeables as they never lasted as long or put out consistent power for consistent light. But Fenix has absolutely converted me. These batteries work great and are easy to recharge… I dig the hell out of these things. I also like how Fenix handles the recharging. There is no janky port on the light itself for recharging. You do have to open the light up and pull the battery out… That's fine. Because when you put the charged battery back in, you have a nicely sealed unit. Unlike another brand which I wont mention that went tits up when I was caught out in the rain and they won't even honor the warranty because I let it get wet.
This is a damn fine little Torch and is a member of a great family of lights. Direct from Fenix it's retailing for $79.95. I've spent twice as much on lights that I don't like half as well.
Check this one out here, and while there… browse the other lights in the PD Series!