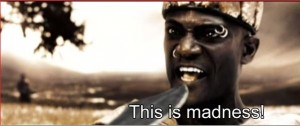 General Petraeus pleaded guilting to moving and retaining Classified Information.   Personal Notes.
Now we've got SecState Hillary Clinton who had Email Servers set up in her own home… and exclusively ran ALL her emails through her own server.   In direct violation of Federal Record Keeping laws.
And the tactics of defense they are using to counter questions?  To insult the question and mock the person asking questions about the emails. Roughly 55,000 pages of emails.
How many of these are classified?  How many counts of moving and retaining Classified information is on top of the violations of the Record Keeping laws?
Remember this is the same Hilary Clinton that had stolen/missing FBI files found on her desk.  The same that had a Staffer caught red handed stuffing documents down his trousers.  While at the same time people around her were either getting arrested or winding up dying of mysterious suicides.
Hillary Clinton is the Reincarnation of Al Capone.   She's the least trustworthy person in DC next to Al Gore and… Well… Most of the DNC Figureheads.