I've taken no small amount of flak for my 2013 Chevy Equinox.  But let me point out some thing.  The Feds no longer own any GM stocks.  It's all been sold, and all monies borrowed from the Feds have been repaid.  So you can stop with the Government Motors bullshit. It's over and that line is tired.  If you are going to remain a hater – at least be a creative one. Okay?  At least make yourself entertaining.  Come on, I drive an Equinox.  I can use all the entertainment I can get.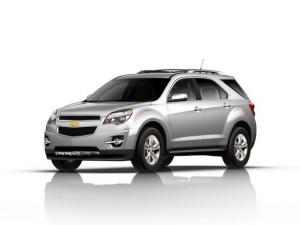 Don't get me wrong – the EQ is a great little station wagon (if you ask the local constabulary) or SUV (if you ask Chevy and Motor Trend) that gets good mileage, has enough juice for it's purposes, cruises the free way and back roads quite well… and it is quiet and comfortable and has some very excellent luxury features that I truly appreciate from my previous vehicle's complete lack of luxury.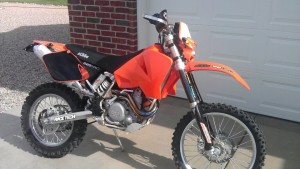 Well, it did have hand guards.  And an electric starter.  Rode that thing last winter.  Sure it was badass and hard core… but to be honest, a freaking Utah Winter?  What the hell was I thinking?  I was not right in the head.  This winter?  The EQ is a godsend.  Heated Seats.  Used to laugh at those.  They are, as I found out, completely wonderful.  And a touch screen XM infotainment system is fantastic.  Back Up Camera – awesome.  And it's a handsome looking Cross-Ute.  It is one of the top selling Mid Sized Ute's on the market, for good reason.  It's totally competent in everything.  I do like it.  But it's boring.  Boring in the same way that Nice Guys always end up in The Friend Zone.  It's lacking Sex Appeal.  Bravado.  Machismo.  Passion.  Chevy has a few cars that have stepped up in the Testosterone Department.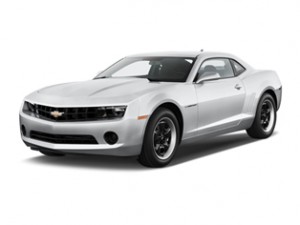 The latest Gen of the Camaro is a solid looking muscle car.  It's badass on the inside, outside, under the hood, from the front, and from the back.  It's a badass car.  It looks badass.  It sounds badass.  It is – badass.  It also attracts Cop Eye like Democrats to Tax Dollars.  While it has all the fun features a muscle car needs, it doesn't quite have the level of comfort that I want.  I want a bit more visibility and a bit lower profile when driving past the local law dogs looking to make quota. I need less Cop Eye yet I don't want to give up the cojones, if you know what I mean.  Something more balanced.   And something that doesn't get you into that Mustang vs Camaro back and forth trash talk I find irritating.  That, and I think I would prefer the new 2015 Mustang anyways. But that's not what I need either.  Because both of these cars lack something else I need.  A Back Seat.  No, I mean a Real back seat.  Not that I'd be in it, but I have sons who are as tall as I am, one as Big as I am, and I need to be able to carry at least 3 of them.    That means I need a full sized sedan, with 4 doors.
Now, who makes a Full Sized Sedan that has Cojones?  There is the Dodge Charger.  There is BMW's 5 Series.  There is the Mercedes – I can't even afford to look at those. And there is Audi, and we have a couple from Japan.  There is the Chrysler 300 SRT  And there is the Ford… no… wait… Ford doesn't have anything.  And Cadillac's CTS-V (or VSport). Sticking Domestic Market, the Axis Powers are out.  Sorry Germany. Sorry Japan.  That leaves the Chrysler… Which is far too expensive.  So is Cadillac.  So those guys are out.  So really that leave it down to the Dodge Charger… the Cop Car of Choice for the last few years.   And this guy…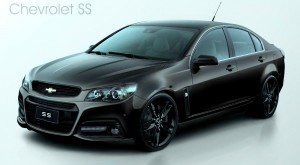 The Chevy SS.  Here's why I like it… no… LOVE IT.  I would take this car over everything else… Even the more expensive or Axis options.  For one, it's got Cajones.  It's a muscle car though and through.  Yet it's wearing a button down collar shirt and a suit jacket.  Even has a bow tie.  With jeans and sneakers.  I like that.  Far less Cop Eye, and it's going to give the Dodge Charger a run for it's money in LE Agency Sales soon.  In fact, it's looks have been compared to the Malibu – a Rental Fleet standard.  This is actually an advantage.  It's automotive camouflage.  It's a Sleeper.  A Q Ship.  I can go fast, and then when there are cops about, I can slow down and get back with traffic and blend right in.  Inside, the SS has the luxury items I have grown to appreciate.  And it has good visibility all the way around.  You can drive this car every day.  You can live with it.  It's not a Weekend Only track car. It's a family car.  With Cajones.  I really think Chevy has a home run here.  Pontiac had to too with the G8, but Pontiac had one critical flaw… It was a freaking Pontiac and I hate Pontiacs.  Put that red arrow head badge on something and you've ruined it for me.  Yes, everyone likes to point out that it's really a Holden – great – I'm glad you can regurgitate the oft-repeated obvious.  However since Chevy owns Holden – It's still Chevy through and through, so suck it.  The interior is all Chevy with their new styling that I find very attractive.  They have been putting out nicer interiors than any other Domestic and most Foreign.  I've been in some new cars and their interiors feel like they were from 15 years ago but with an iPad glued to the dash.
Here's the thing, and you can argue amongst yourselves about this… Unlike other companies that took Government Bail Out Money – General Motors actually put it to good use and have transformed the company.  They are making good cars now. Look at what they were making before… Crap.  It was all crap.  I hated everything Chevy was making that wasn't a Truck.  Now look at them… Well, don't look at the Volt.  But look at everything else. They look good.  They run good.  They are are making solid cars now.  Hell, even the Malibu is a decent – albeit coma-inspiring – car.
Now look at S&W.  Under the Clinton Administration S&W signed a contract with the Department of Urban Housing.  I'm not going to go into that, you can read about that here.  Or Google it all up all on your own.  The fallout of this was that all True Patriots gave S&W the middle finger.  I did too.  Just like GM.  Yeah, I was hating on GM too… which was not hard to do because like I said before – I already did.  Save for the trucks.  Okay, back to S&W… When S&W was brought back to All American Ownership after that DUH Contract SNAFU, they needed to seek forgiveness from the American Gun Owners.  They did this and brought out the S&W .500 Magnum.  Because – forgive me for using this phrase – "Because 'Merica".  They made the Biggest Baddest Handgun on the planet.  And then they made the .460 because they decided to make something actually usable on that big beautiful frame.  Then they brought out their 1911's.  And even redid the SIGMA into something actually good – the M&P.  And then they brought out their AR-15's.  They brought out things that the American Shooter loves.  And it wasn't a half assed job – they put effort into them – They were making Good Stuff.
Chevy, "The Heartbeat of America" is doing the same thing.  Like S&W they have taken their lumps.  They have learned their lesson.  And they are making Good Stuff… and they deserve our forgiveness.   GM employs a lot of American.  Chevy employs a lot of good people.  I know some of them.  They like their Guns and they dislike Obama as much as we do.  They could use our support.  Especially since they are making some great vehicles.
I do not even need to go there with the new Corvette Stingray.  Because – Damn.