Went for a ride on the KTM… this time I went and hit dirt.  About five miles on sand, dirt, gravel, and rocks.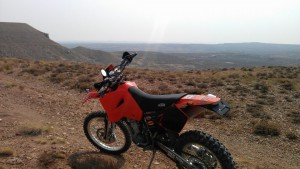 I have to be honest, this was absolutely horrifying.  It was the scariest thing I've ever done.  No, seriously… out of everything I've ever done – this was the scariest.  I got to a point where I overlook Highway 40, and I had to stop to take a breather.  I was drenched in sweat and my heart was racing!  Oh man.   At one point, it felt like my hair was on fire and my balls were on fire… and I glanced down… I was only doing 28 MPH.  Oh Man!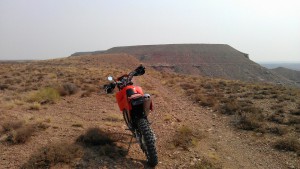 But I survived, didn't face plant.  Kept the bike up.  Coming back I was able to open it up some more… went faster.  Caught a bit of air.  It was scary and thrilling.