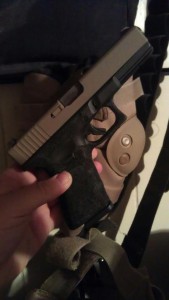 You guys may remember how I rescued an old abused Glock. It cost me 200 bucks, which is about 50 bucks more than a Hi Point and a Box of Ammo.
Well, if you don't remember, I was working at the gun store one day when a fellow brought in a ragged old Glock that was just beat to hell. We gave him far too much for it on Trade In. The thing was so bad, it wouldn't be able to be resold. In fact, it didn't even function. The Trigger wouldn't reset. The slide… well, the dude tried to polish off all the Black and make it shiny. He failed. The frame looked like a Pit Bull's Chew Toy.
So I filled out the 4473, purchased it from the store and took it home.  It was mine.
The trigger needed new parts.  I had a small collection of such parts.  Some aftermarket, some Factory Glock.  I replaced everything in the trigger mechanism.  The result was more than satisfactory.  I like it a great deal.  After test firing, I was satisfied in the gun's function.  But I hated to look at it.  Since I couldn't hurt it anymore than it had already suffered, I modded it.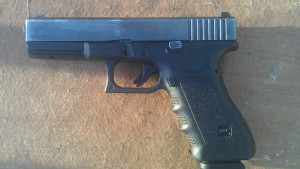 This was what it looked like when I got it.   Nasty.   I cut down the frame from 22 length to 23 length, then I ground off bits and sanded bits and then stippled it. It now feels nothing like a Glock in the hand, and it fits my hand perfectly.
This weekend at Crusader HQ, I took that slide and gave it a fine Media Blast to remove all the problems, old finish, and to rough up the slide so the Cerakote could stick to it better. I took my time on this and really made sure I got everything nice and even.
Then Joe hit it with some Cerakote in a new color I really dig… "Magpul Flat Dark Earth". This is a darker flat dark earth or Coyote Tan color than is the norm. Looks really good.
The completed gun, better view.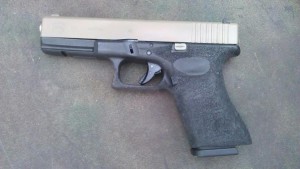 The gun feels better in the hand than it looks.  Feels slightly smaller, grippier, and comfortable.  This Glock is becoming a personal favorite.  I really like the results.  If I pick up another model 23, I might chop it down to 27 length.  Just for fun.