Crossroads of the West Gun Show… We had a great time at the Crusader Weaponry table.  We really did.  Sold a ton of Slipstream, which was great.  Interestingly, one of the biggest draws was the Sterling.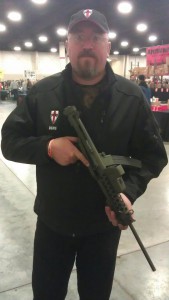 Walking around the Gun Show, I found that half of it was total bullshit.  Fake indian jewelry, Jerky, a freaking bakery, china, and assorted flea market crap that in my opinion should all be boosted out of the gun show.  The gun show promoters, the Crossroads of the West group – they themselves are ruining the ancient tradition of the gun show.  I know the show has to fill the tables, but they need to outreach to the dealers and guys actually in the Shooting, Hunting, and Outdoors Trade.  And don't let in anyone else.  No Beef Jerky, no jewelry… No Fuzzy Slippers.  Yes, there was fuzzy slippers.  WTF?
The other thing ruining the gun show are the old standby grouches.  "Look but don't touch" grumps that come out to every gun show and have tables full of crap.  I saw several SMLE Enfields… Classic .303 British rifles.  All in the same condition, but prices going from 79.99 to 380 bucks.  One .303 for 380 bucks was totally ruined by a 12 year old's attempt at Sporterizing it.  Okay, I don't know if a 12 year old did it – but it looked like it.  I looked at it, and said "Are you serious?"  The guy grumbled, "Price is negotiable."  "Really?  I'll give you fifty bucks."  The man didn't answer, but he knew that I knew that I should have wrapped that barrel around his neck.  The gun was just flat ruined and he wanted a beyond what a collector condition rifle would have been worth.  These guys… they are killing the gun show.  The fastest way to clear out a 50 foot radius in a Gun Show is to throw down a copy of an gun values Blue Book.  All those dealers would scramble to get away from it.
I watched people get totally taken… Yet I saw a couple guys get some real steal deals… Like a Winchester shotgun for 60 bucks.  Read that again.  A Gem.  It's kinda like Gold Panning… lots of dirt with an occasional nugget in there.
We need a new gun show promoter in Utah.  Because there were people there walking around that should have had booths.  Fitzen Knives, Jager from Ops Gear.  They were browsing… they saw it.  Yet they wouldn't be bothered putting up a booth at the current gun show.  We need a gun show that has these guys saying "We're Not Missing It."