Crusader Weaponry is proud to announce the official launch of Slipstream Styx.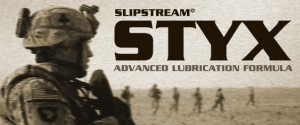 Styx is our Maritime formula.  Designed to provide not just the ultimate in lubrication, but also the best in corrosion protection.  We designed this stuff for our Marine warrior brothers, for our brothers in the Sheriff's Departments and Police Departments in Coastal areas.  Styx would be absolutely perfect for Somali Pirates – but we wont sell it to them.  The guys that hunt Somali Pirate, however… this is the stuff for you.  Coast Guard's Law Enforcement and Drug Interdiction guys – this stuff is for you.  Virginia Beach Police – this stuff is for you.  For you guys packing Concealed Carry in Atlanta Georgia where you can get all kinds of hot and sweaty… This stuff is for you too.
Slipstream Styx.  Your unfair advantage. Get it in your gun.