I'm concerned about Trunk Monkeys right now.  The term comes from the funny videos on YouTube, just go there and look it up.  It's amusing.  But what's not so funny is the job of Rear Security and the guys that have to pull this slot.  They are called "Trunk Monkeys".  This is not an easy job to pull if you get tasked for it.  Reason being, you get told to be the Trunk Monkey, you jump into the back on an SUV and it's pretty much up to you to make the best of it.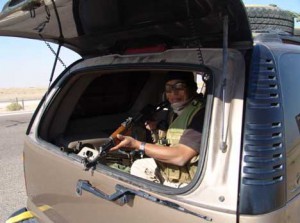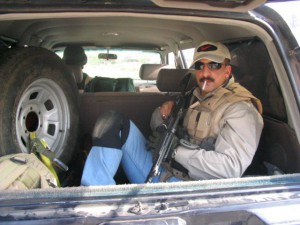 You can see these Trunk Monkeys are in the back with gear, tools, an unsecured spare tire…  No safety, no protection.  These Trunk Monkeys are hanging it out on the line more than anyone else in the detail.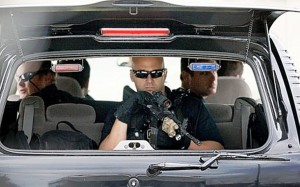 This is one of the most famous Trunk Monkey photos out there, as this one is US Secret Service.  I'm not giving anything away as this one has been out there for years now.
Now, of the Trunk Monkey is lucky, he'll at least have a seat or something.  But again, very little protection for the Agent in the back.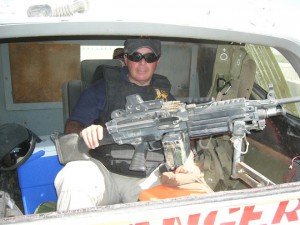 This guy has a seat and a weapon mount to help him do his job better.  Maybe a seatbelt, and some upgraded body armor…. but again, the protection is minimum his movement in the vehicle is minimum. The fronts of the vehicles are protected with bullet resistant glass.  The backs?  Not so much, and especially not if the rear window is opened.
I'd like to see an armor plate on that weapon mount.  Something to help deflect some incoming fire..  I'd like to see a swiveling seat on a slider so the Trunk Monkey and can move side to side to better engage and avoid threats.